Autodesk Fusion 360 Simulation Extension
From injection molding to mechanics simulation
What is the Autodesk Fusion 360 Simulation Extension?
With the Autodesk Fusion 360 Simulation Extension, your team can perform performance and manufacturability analysis.
Simulation studies help understand how your 3D designs will perform under real-world conditions before manufacturing.
Explore structural, thermal, and explicit simulation tools, including injection molding simulation, to gain early insights into manufacturing.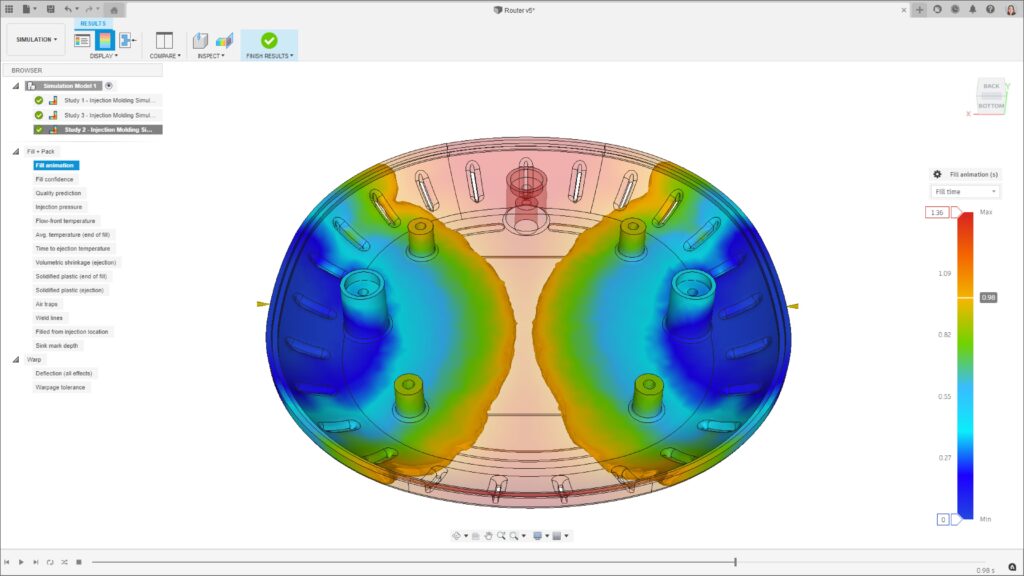 Advantages of Fusion 360 Simulation Extension

Access to different types of simulations
Simulate what you need with access to a wide range of advanced finite element method (FEM) simulation capabilities using proven solvers from mature simulation software, such as Moldflow.

CAD models for simulation the easy way
Simplify your simulation CAD models and simulation studies. Compare design changes and revisions without having to export models.

Ensuring the moldability of plastic parts
Recognize and visualize moldability. Predict the quality of injection molded plastic parts. Use design change recommendations to revise your 3D designs.
What are the possibilities offered by the Simulation Extension?
Injection molding simulation
Recognize the impact of part design on the manufacturability and quality of plastic injection molded parts.
Nonlinear static analyses
Simulate significant deformation, motion, contact and load changes in nonlinear materials.
Check the effects of natural free vibration on your component or assembly to help fine-tune your design.
Trace the heat transfer to determine if your component can fail due to the maximum critical temperature.
Thermomechanical simulations
Simulate temperature-induced stresses and varying thermal expansion characteristics of materials in the model.
Insights like critical buckling factor let you develop and refine designs to prevent structural failure.
Simulation Extension
1410,- €p.a.*
- Injection molding simulation
- Static component analyses
- Dynamic analyses
- Implicit and explicit calculations
- Impact simulations
- and much more
From black box to high-quality component design in just a few hours
Learn more about Fusion 360 Generative Design Extension now and follow the journey from basic settings to full-fledged renderings with our sample design.
For further information on the operation and use of Fusion 360, we recommend attending our training courses.
Autodesk Fusion 360 and Product Design & Simulation Extension Overview
Injection Molding Product Comparison
| | | | |
| --- | --- | --- | --- |
| | Adviser Premium | Adviser Ultimate | Fusion 360 + Extensions |
| Import of common CAD formats | ✔ | ✔ | ✔ |
| Modelling of runners | | ✔ | ✔ |
| Modelling of cooling systems | | ✔ | |
| Import of assemblies | | | ✔ |
| Dual Domain meshes | ✔ | ✔ | |
| 3D meshes | ✔ | ✔ | ✔ |
| 3D meshing of runners | | | ✔ |
| 3D modelling of cooling systems | | | |
| 3D modelling of heating systems | | | |
| | | | |
| --- | --- | --- | --- |
| | Adviser Premium | Adviser Ultimate | Fusion 360 + Extensions |
| Injection point evaluation | ✔ | ✔ | ✔ |
| Process window evaluation | ✔ | ✔ | ✔ |
| Fill | ✔ | ✔ | ✔ |
| Fiber orientation | ✔ | ✔ | ✔ |
| Packing | | ✔ | 10 Sekunden |
| Runner optimization | | ✔ | ✔ |
| Warpage | | ✔ | ✔ |
| Tool cooling (average) | | ✔ | |
| | | | |
| --- | --- | --- | --- |
| | Moldflow Adviser | Moldflow Insight | Fusion 360 + Extensions |
| Thermoplastics | ✔ | ✔ | ✔ |
| Tool steels and alloys | ✔ | ✔ | |
| Coolants | ✔ | ✔ | |
| Elastomers | | ✔ | |
| Duromers | | ✔ | |
| | | | |
| --- | --- | --- | --- |
| | Moldflow Adviser | Moldflow Insight | Fusion 360 + Extensions |
| Number of parallel simulations | ∞ | 3 | ∞ |
| Number of cores per simulation | up to 100 | up to 100 | ∞ |
| Queue (Job Manager) | | ✔ | ✔ |
| Access to Cloud computing | | ✔ | Cloud only |