Increased productivity through automated reporting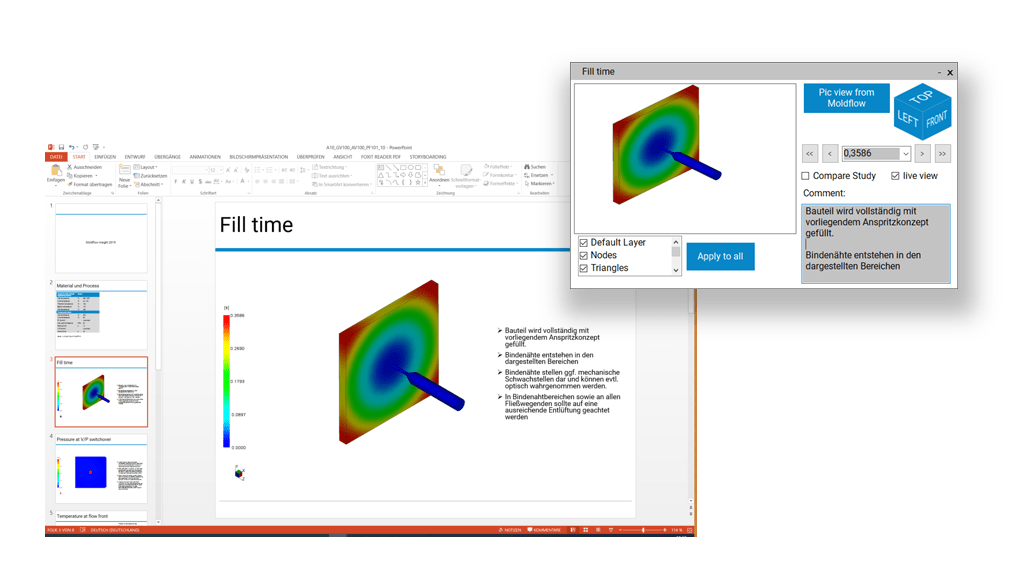 With the new MFS Report Generator we offer our customers the possibility to create automated and detailed reports for Moldflow projects with simple and fast commands. The reports are exported in Microsoft PowerPoint and can be edited afterwards. This eliminates the need for time-consuming creation and arrangement of images, comments and other details. Register here for a 4-week trial license!
Quick and easy entry of report information

Create reports in seconds

Enterprise standardized reports

Focus of project engineers on key activities
Full version of the Report Generator 1.0
1900€per year
Access to all functions
Unlimited number of reports
Unlimited number of projects
Support and updates included
40x access to the Report Generator 1.0
900€once
Access to all functions
Any number of reports per project
License limited to 40 accesses
Support and updates included
Due to the high demand and the successful introduction of individually created report generators to our customers, we decided to offer a standardized report generator for all Moldflow users. With the help of this report generator it is possible to reduce the processing time for reports by 50 to 60 percent and thus provide a much more productive environment for project engineers.
You too can benefit from automation by registering for the 4-week test phase of the Report Generator 1.0. This version is the first commercially available license and will be improved in the future. We would like to invite you, our customers, to make suggestions for improvements in order to further optimize the product and make it even more efficient.
In addition to the standardized products, it is also possible to obtain a company-specific Customized Report Generator. Please select the respective option in the form below.
Use this form to obtain further information: