CONNECT European Moldflow User Meeting 2023
Secure your spot now for the 14th CONNECT at our partner eventbrite.
Are you a Premium Support customer of MFS? Then please contact us to get the code for the discounted ticket booking.
CONNECT will take place at the Lindner Congress Hotel in Frankfurt am Main. We have already reserved a room contingent for the event. Please note that the hotel has to be booked by the participants in time and independently from the event.
The dates for the CONNECT Moldflow User Meeting 2023 are confirmed! Join the European community of Moldflow users, material suppliers and tooling and molding experts and share your vision of the future of simulation, automation and production.
Want to present your ideas and projects on stage? Then help shape this year's CONNECT and apply as a speaker.
Excerpt of last years lectures
Simon Staal, SABIC Limburg B.V.

Advanced Warpage Counter Correction 4.0
From designers to mould makers, warpage of injection moulded plastic parts might be considered as one of the more difficult challenges. In a world where we push for high quality first time right injection moulding, going through multiple time consuming and costly iterations should of course be avoided. SABIC supports new developments in industry 4.0 and virtual prototyping. Applying a warpage correction to the mould product cavity is a process already seen in the market for many years, with the compensation figures either based on either prototyping or simulation. However we typically find the end result to still have a significant amount of residual warpage. In close collaboration with the joint venture Inpro a set of software tools have been developed which automatically iteratively creates the warpage compensated model, either in the full part or in specific focus areas. The results have been experimentally validated with a full scale injection moulded part. The presentation will highlight the software development approach, the link to Moldflow and other software suites, and the experimentally validated results before and after warpage compensation.
Mason Myers, Autodesk Inc.

Moldflow Mondays – Miscellaneous Moldflow Concepts, Workflows, and Best Practices
Software training is essential for any new Moldflow analyst.  Multiple Moldflow courses are publicly available however reviewing key concepts, important updates, and new workflows are critical for all simulation engineers.  This presentation will focus on multiple Moldflow concepts ranging from modeling techniques, analysis sequence selection, result comprehension, recent software updates, and industry best practices.
Dr. Franco Costa, Autodesk Inc.

Moldflow Solver Research & Development Update
The Senior Research Leader of Autodesk Moldflow reports on recent and current (research) activities to improve the accuracy of Moldflow predictions.  Special attention / focus is given to the further development of the use of shrinkage characterization data for 3D analyses as well as new functions and performance features in different areas of the solver.
Anton Sageder, Borealis Polyolefine GmbH

Routine for improved Shrinkage and Warpage result with Autodesk Moldflow 3D mesh
Accurate shrinkage and warpage simulation by using Autodesk Moldflow 3D mesh can be still a challenge. As CRIMS data for 3D elements not used in the current Moldflow versions Borealis is dealing to fine-tune the CLTE value manually to find the right shrinkage value in a working project. The speech underlines the high importance to consider anisotropic CLTE and mechanical data to get out correct shrinkage and warpage result. Materials like PE normally considered as an isotropic material. A showcase for a Polyethylene part demonstrates the importance of using anisotropic material data to improve the output. Using the routine for glass fibre reinforced PP material delivered improved result quality.
Alfred Angerer, ENGEL Austria GmbH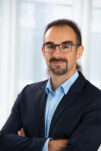 ENGEL sim link® – Connection between two worlds: Simulation and production
An everlasting issue in the product lifecycle of an injection moulding article is the data barrier between simulation and production. So far it is very difficult to impossible to transfer suitable process settings and profiles from simulation to production. The simulation engineer also rarely gets feedback from the shop floor. The solution: ENGEL sim link®. The bilateral data interface between simulation and injection moulding machine enables an easy transfer of simulation data to production. Also getting feedback from the shop floor with respect to real production settings and profiles by importing these directly into the simulation project is easily feasible.
As a best practice example a case study will be presented to show a possible workflow for the use of the ENGEL sim link® key features and also the benefits of the data interface itself.
Uwe Schilling, Brose Fahrzeugteile SE & Co. KG

Development of a 16-cavity tool for a metal-hybrid plastic spindle nut
Better understand reality through simulation and improve processes in a targeted manner
A fully automated manufacturing cell was to be developed and implemented for the hybrid spindle nut. As an additional challenge, the number of cavities was expanded from 8 to 16.
The findings from the running mold with 8 cavities were transferred to the 16 cavities and confirmed with simulations. Based on the simulation, it was possible to identify a cause for the insufficient holding pressure effect in the new mold and to eliminate it before mold maturation, so that a qualitatively better starting position for the correction on the gearing could be achieved for the 16-cavity mold.
The presentation shows the cause identification of the shortened holding pressure time and the effect on the gear quality and the more robust process control.
The CONNECT! European User Meeting