Autodesk Moldflow Adviser
The Solution for Designers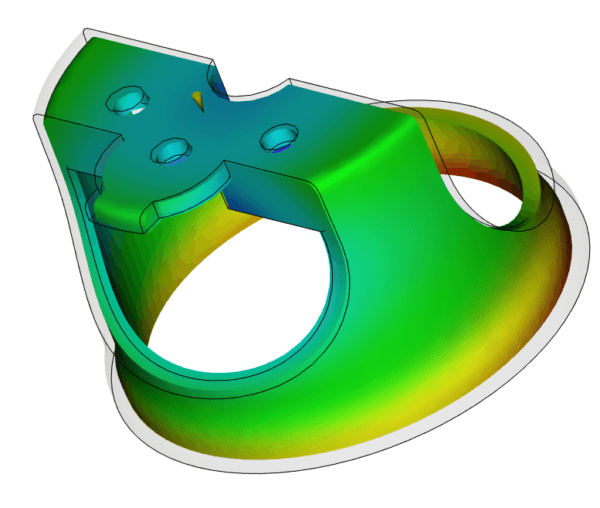 Autodesk Moldflow Adviser is the small and cost-effective solution for simulating the design during component development. With the resulting digital prototypes, development times and costs can be drastically reduced. The Adviser allows the simple import of CAD data from all common systems such as Catia®, Creo® or SolidWorks®, as well as the fast simulation of the component – often only within a few minutes. Despite the extremely simple handling, the Adviser uses functions, solvers and, above all, the Autodesk Moldflow Insight material database, which contains over 10,000 data records.
After just two to three days of training, users are able to find a suitable injection point, compare different materials, ensure feasibility and carry out a fully-fledged filling simulation. The results of this simulation include maximum pressures and closing forces, the cycle time and, of course, shrinkage and warpage. In addition, the Adviser already allows the modeling of connection and cooling systems with the help of intuitive Runner and Cooling Wizards, so that the first simple mold analyses can be carried out quickly.
Your advantages at a glance:
Simple operation
Short training period
Suitable for occasional use (parallel to construction)
Low-cost introduction to injection moulding simulation (already at 221,- €/month*)
Free (Trial)
0,- €one month (30 days)
All Adviser features
Runner optimization
Holding pressure and warpage analysis
Tool cooling
Fusion 360 Simulation Extension
from 118,- €per month*
Newest injection molding technology based on Moldflow
Determination of injection point(s)
Filling simulation
Packing simulation
Warpage and deformation results
Moldflow Adviser + Fusion 360
from 696,- €per month*
All Adviser features
Runner optimization
Packing pressure and warpage analysis
Mold cooling analysis
+ Fusion 360 Simulation Extension
And much more...
Tutorial #1 (Design Guide):
Tutorial #2 (Process Settings):
For further information on the operation and application of the Adviser, we recommend attending our training courses.